Intelligence artificielle : 10 cours en ligne gratuits à suivre si vous souhaitez travailler dans le domaine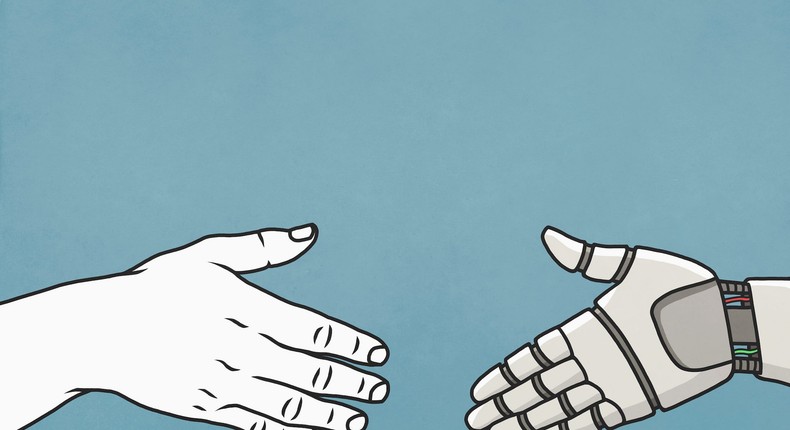 Si plusieurs d'entre eux sont très bien notés, d'autres ont été créés par des entreprises et des établissements d'enseignement de premier plan.
Note : les cours sont en anglais.
Offered by: MetaRating: 4.6/5Length: 10 hoursClass description: This course covers the metaverse and how it interacts with the world around us. It also addresses the professional and business opportunities that come with the metaverse and is taught by experts from Meta, Facebook's parent company."You'll learn about augmented reality, virtual reality, extended reality, NFTs, blockchain, Web3, cryptocurrency," Coursera says.Once they complete the course, students can collect Meta professional certificates, which can be shared on LinkedIn profiles or rsums.Find the course here.
Offered by: RutgersRating: 4.4/5Length: 19 hoursClass description: In this course, Rutgers professors teach students about blockchain, artificial intelligence, and virtual-reality technologies. The class is designed to help business leaders understand the technologies and implement them in business organizations. It helps leaders "improve client and customer engagement and ultimately the bottom line of their businesses," Coursera says.A course certificate, which can be shared on LinkedIn profiles or rsums, is available for purchase after the course is completed.Find the course here. Business Insider USA
Offered by: The University of VirginiaRating: No ratingLength: 28 hoursClass description: Topics in this course include the nature of artificial intelligence and information theory, analysis and technological change in economics, how technological change drives economic growth, and the influence of AI-driven technology on workers. "The course introduces you to cutting-edge research in the economics of AI and the implications for economic growth and labor markets," Coursera says.Find the course here. Business Insider USA
Offered by: Lund UniversityRating: 4.6/5Length: Four weeksClass description: The class covers the ethical and societal aspects of artificial intelligence over four modules that each equal about one week of part-time studies, according to Coursera.  Subject matter includes algorithmic bias and surveillance, the influence of AI on democracy, the concept of consciousness, and responsibility and control. "The aim of the course is to raise awareness of ethical and societal aspects of AI and to stimulate reflection and discussion upon implications of the use of AI in society," Coursera says. A course certificate, which can be shared on LinkedIn profiles or rsums, is available for purchase after the course is completed. Take the course here. Business Insider USA
Offered by: Amazon Web Services Rating: No ratingLength: Seven hoursClass description: The class teaches students the difference between artificial intelligence, machine learning, and deep learning. It also covers how to build, train, and deploy machine-learning models. "We'll cover services which do the heavy lifting of computer vision, data extraction and analysis, language processing, speech recognition, translation, ML model training, and virtual agents," Coursera says. "You'll think of your current solutions and see where you can improve these solutions using AI, ML, or deep learning."A course certificate, which can be shared on LinkedIn profiles or rsums, is available for purchase after the course is completed. Take the course here. Business Insider USA
Offered by: The Polytechnic University of MilanRating: No ratingLength: Three hoursClass description: This class is specific to the healthcare sector of artificial intelligence. Students will learn how AI systems work, which tasks can be carried out by AI, and common challenges for AI in healthcare. The course "gives an introduction to trustworthy artificial intelligence and its application in healthcare," Coursera says, adding it's "aimed at healthcare professionals, patients, and AI practitioners."A course certificate, which can be shared on LinkedIn profiles or rsums, is available for purchase after the course is completed. Take the course here. Business Insider USA
Offered by: The University of California, Santa CruzRating: No ratingLength: Four hoursClass description: This course covers the basics, such as artificial-intelligence definitions and the future of AI."This nontechnical course provides an overview of artificial intelligence advancements and the ethical challenges we now face as we navigate the development, implementation, and ubiquitous global use of AI," Coursera says. A course certificate, which can be shared on LinkedIn profiles or rsums, is available for purchase after the course is completed. Take the course here. Business Insider USA
Offered by: Edge ImpulseRating: 4.8/5Length: 17 hoursClass description: This course gives students an overview of machine learning, a branch of artificial intelligence that uses data and algorithms to solve problems and imitate the way humans learn.The course includes segments on "how to use machine learning to make decisions and predictions in an embedded system" and "the concepts and vocabulary necessary to understand the fundamentals of machine learning," according to Coursera. It also provides students with demonstrations and projects for hands-on experience.A course certificate, which can be shared on LinkedIn profiles or rsums, is available for purchase after the course is completed. Take the course here. Business Insider USA
Offered by: Lund UniversityRating: 4.6Length: 11 hoursClass description: This course is designed for those looking to implement AI in business organizations, whether that be public or private, large or small. The course includes a combination of short lectures, interviews, and interactive exercises surrounding AI, according to the course description.Throughout the course, 12 industry professionals will be included to give students a broad overview of topics like the history of AI, potential risks, and best practices.A certificate is available for purchase by completing the class. You can include the certificate on your LinkedIn profile, or on printed resumes, CVs, or other documents.Take the course here. Business Insider USA
Offered by: Macquarie University and IBM AustraliaRating: 4.7Length: 16 hoursClass description: With increasing conversations around AI in the classroom and workplace, this course covers how to embed AI into school curricula."This course is designed by teachers, for teachers, and will bridge the gap between commonly held beliefs about AI, and what it really is," according to the course description.Take the course here. Business Insider USA
Témoin oculaire? Partagez avec nous vos infos via les réseaux sociaux ou par mail:
Email: redaction@pulse.ci
ARTICLES SUGGÉRÉS
Les 10 pays africains qui consomment le moins d'alcool
Le gouvernement investit plus de 10 milliards dans l'éducation féminine
Molare promet 200 bourses d'études à des étudiants de foyers démunis
Les raisons pour lesquelles la CAF a choisi le Maroc puis le Kenya, l'Ouganda et la Tanzanie
Les fêtes musulmanes qui octroient un férié en Côte d'Ivoire
Fête de Maouloud : origine, signification et célébration
La liste des pays africains dont l'économie a été impactée par Netflix
Un sponsor de plus pour la CAN 2023 : TECNO rejoint l'aventure
5 images qui prouvent que Carmen Sama est une beauté ivoirienne